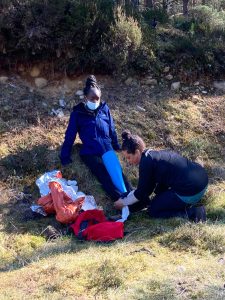 Outdoor 1st Aid Courses for BAME established and new outdoor organisations leaders/influencers. OUTDOOR FIRST AID CERTIFICATE. Hosted by First Aid Training Co-operative Ltd.  Recognised by national governing bodies
Cost:  £40/person for employed or paid by organisation.  FREE to unemployed.
Current 2022 Dates:
25th – 28th March @ Aviemore Scotland:  FULL
28th & 29th May GLASGOW:  FULL
25th & 26th June BIRMINGHAM:  FULL
15th & 16th October BRADFORD:  Spaces available
BOOK NOW – LIMITED SPACES.  Contact pammy@backbone.uk.net to book your place.
Joining Instructions will be sent on confirmation of your booking.